This year, 2015 marks my tenth active in Lolita fashion. That's a little scary to me, as I often still think of myself as just getting started ;D
I decided to mark the occasion by giving a year-by-year run down of my experience in dressing Lolita. Complete with photos, bad and good. Starting with the first time I ever wore something "lolita";
[insert screming sound-effect here]
Summer break, 2005...
Obviously back then, I still had no idea if I liked Dandy or Lolita more... but didn't realise how bad an idea it was to combine the two.
Oh well! We all start somewhere.. right?
By 06 I got the hang of separating the two;
But was still as new as new can be!
In 2007, I bought my first brand piece.
"side frill rose skirt" by Metamorphose, I believe. I was so happy! There is even a photo of me on Metamorphose' "go go lolita-chan" page, as their Scotland Lolita from back then;
http://www.metamorphose.gr.jp/gogo_lolita_scotland.html
I was so proud at the time...
2007 is also when I first started attending Scotloli meetups! We were a small group, run through LJ. There were only about 4 of us, and the other three were all older, more experienced and better dressed than me. I was naturally quite intimidated, but also really admired them.
I attended my first meetup in an entirely offbrand shiro outfit, sortly before buying the Meta skirt that would be my first brand piece.
And for halloween '07 I took my first swing at Guro lolita. Using the same dress I'd worn to the meetup, but with fake blood all over it. In the old fashioned Guro way.
2008 was more of the same, more Metamorphose, more meetups. I was starting to really feel comfortable in lolita!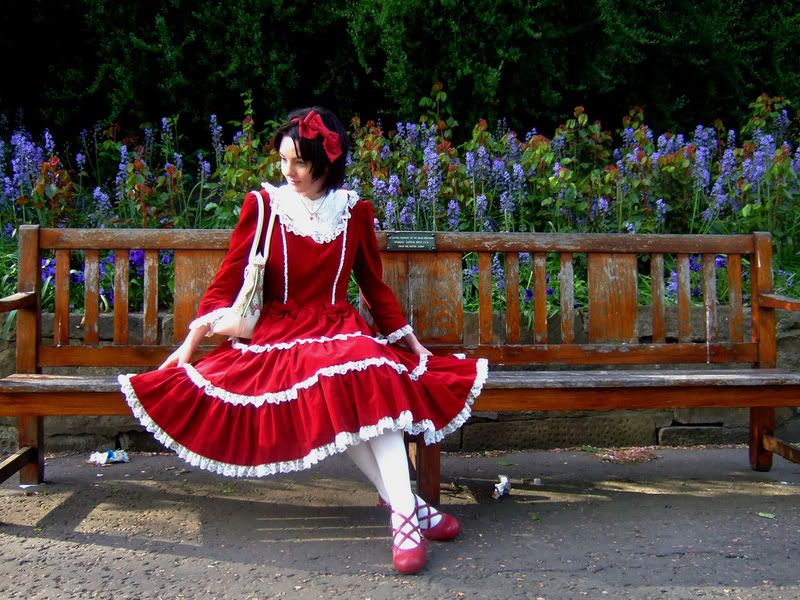 I tried running a meetup in Glasgow, and although there were only two of us at it, I made a friend and it's still a treasured memory.
In 2009, I moved to Japan for 6 months. I lived out in Iwate, teaching and generally living a fashion-free country-boy life. It was a wonderful experience while it lasted, but I made sure to take a few trips to Tokyo for shopping, and ultimately poor health meant I had to come home.
Of course, once I got home I got right back on the horse with my fashion sense!
ScotLoli had moved in part to Facebook, making it easier to run meets and find newbies.
Above left Photo is from the xmas meetup 2009
In 2010, I was getting set back up at home. getting started with treatment and diagnosis for what would turn out to be Fibromyalgia. It was stressful, but I still made time for Lolita;
My style didn't really change, but by 2010 it was considered "old school".

2012 is pretty well documented in this blog, but in summary, life was starting to come together again, living with my partners and running/attending regular meetups.


2013, more meetups, more metamorphose. The comm started to fill out a bit with new faces and our meetups got a lot bigger.
And after all this time, I was still wearing my old fave meta dress.
And now, Old School and gothic motifs are back in again, and I...
really haven't changed much at all!
Here's to year ten of Lolita fashion. I hope to keep wearing it regularly, and our comm keeps growing.