Tokyo, Disney Sea! Yes, it deffinately IS the genki-est place on earth. And I loooove it! This weekend 11 of us Iwate folks took the night-bus down to tokyo for a saturday at Disney and Sunday in tokyo. The bus there was a giggle, the seats could lean back, had foot rests... and bizarre little hoods on the top to pull down over your head for sleeping. They looked a lot like hairdresing equipment and as such were comical on the men. Since it was the night bus, i'm sad to report that it was too dark for my poor little phone camera to take a photo of.
Still, for a bus journey, I slept very well and soon enough it was 8am and we were in tokyo, racketing about. I stared out the window trying to soak in as much City Essence as possible. I like this country-life thing, but I'm a city girl at heart. And after a while of that, we reached the Disney Carpark.
We trooped out to the monorail, stopping breifly to ask The Happiest Policeman Ever for some directions to the station. The monorail train was Mickey themed.
we got to the gates and stopped to put things in lockers and get changed ans such in the bathrooms.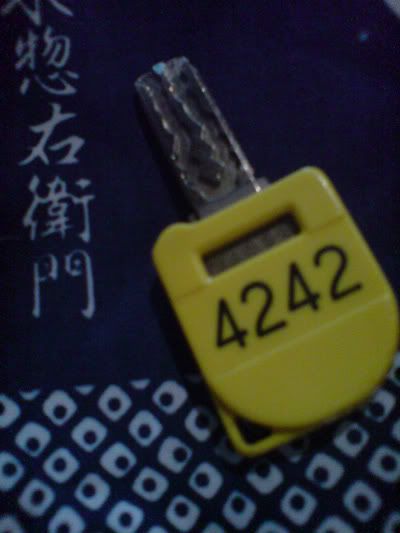 I chose locker number 4242.. just incase the number is lucky or something since Mum always chooses 42.
AAAND, Disney Sea;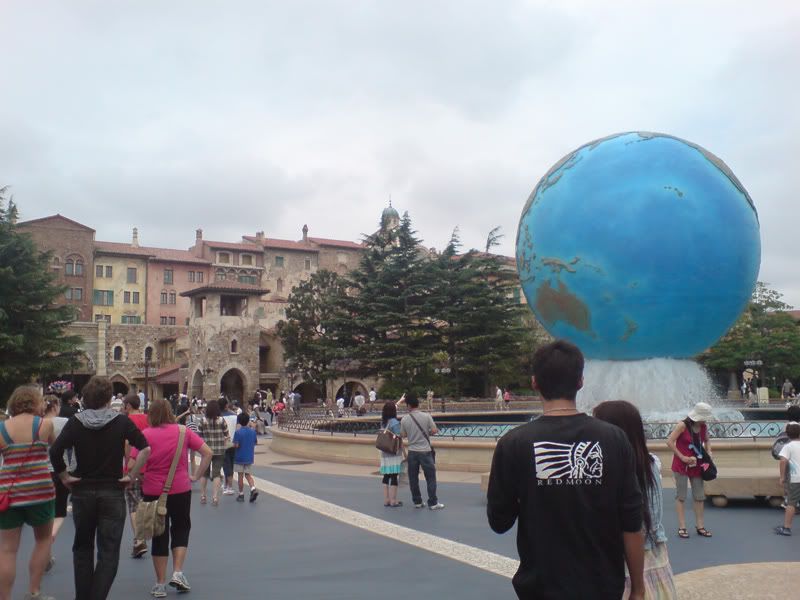 Haha, you can see Lauren, pete and Dana in the corner there...
THE GLOBE, was mighty impressive, there were shops and a hotel here in the entranceway.
Then through the castle gate, where we could see The Volcano, hear some very energetic music and you can just see the outline of the fox from Pinnochio under the arch there...
Through there was the lake, and a Very Genki Lady in a bright costume dancing like crazy to super upbeat japanese disney music. It was hillarious! There were boats on the lake too with Mickey and chip and dale on them... all of these people were carrying hoses and getting the crowd splashed/ soaked depending on where they were dancing!
Well.. I guess Disney SEA should be watery? It was a very hot day, so Laura, Dana, jar and I attempted copying the dance Jar and I bailed out after a bit though, too soggy! Dana and Lauren got soaked.
Our first port of call was to grab some breakfast, while Dan and Tyler kindly went to get us some fast-passes. because they're awesome like that.. and we'd been on a bus all night.
We got dinner in the New York area, and then made our way to The Tower of Terror! Okay, the voodoo doll that supposedly cursed the tower was genuinely scary, and the ride was fun.
So we were geared up for more! And walked accross the bridge to the Indiana Jones area;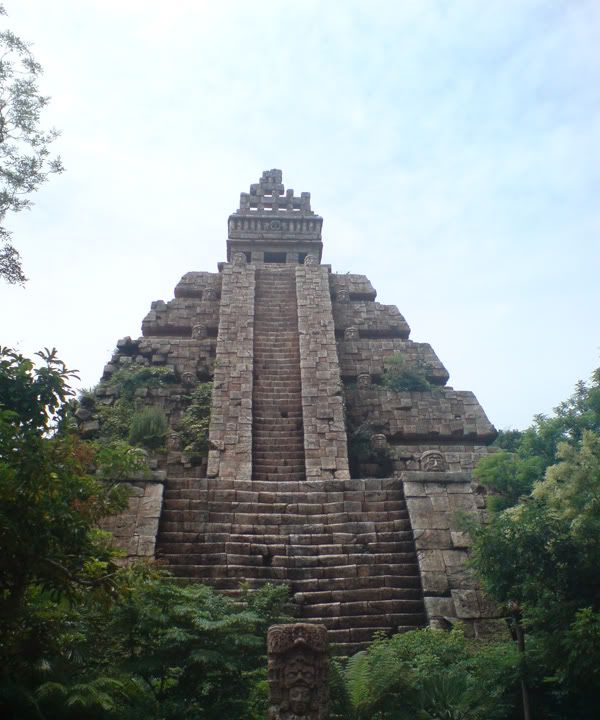 This area was impressive, you'd never know you were in japan let alone Chiba. There were torches with flames and all, which was really cool but it was already a scorching hot day so being near the torches was always kind of uncomfortable. However, there were random Cool Mist stations around the park that spew out cold mist to stand in! The one near here was in a hedge, there was a purple flower that spewed out cold mist.
Right next to the Indiana Jones ride was a runaway-train ride called Raging Spirits.. it had a small 360 loop and this impressive setting outside;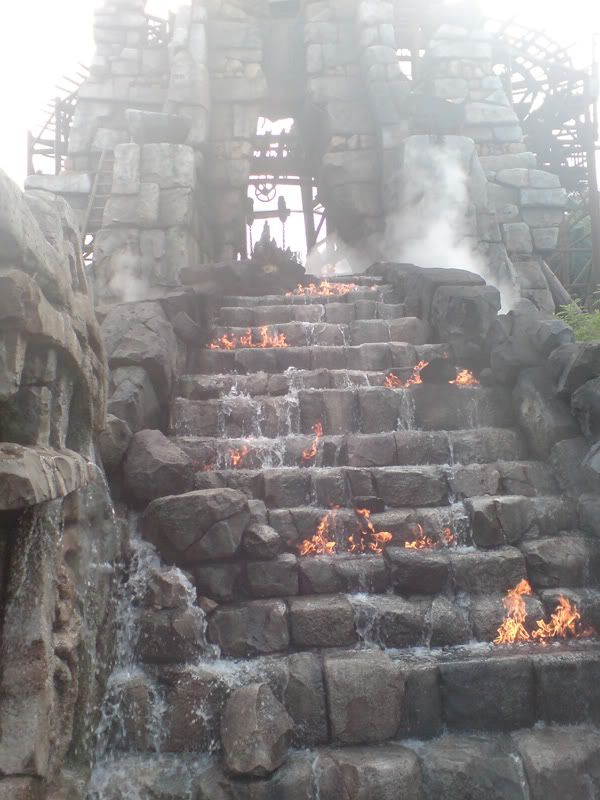 yeah, that is fire on a waterfall... Any ideas how that was done?
We grabbed a fast pass for those two on our way past and carried on to the Journey To The Centre of the Earth.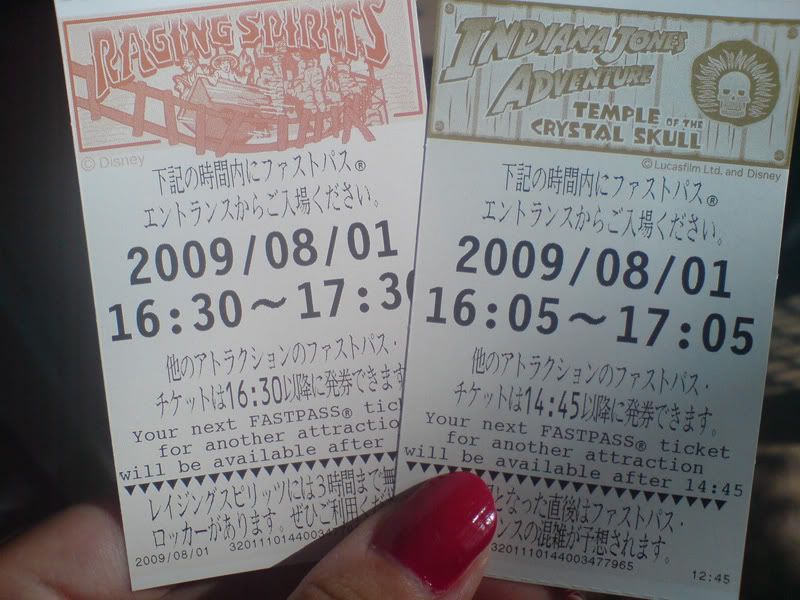 Fast Pass! I was a little dissapointed that the staff take the tickets off you when you get on the ride, I mean, I know they have to so you don't use it again.. but I wanted to keep them for my scrapbook. haha. Oh well! I took a photo instead.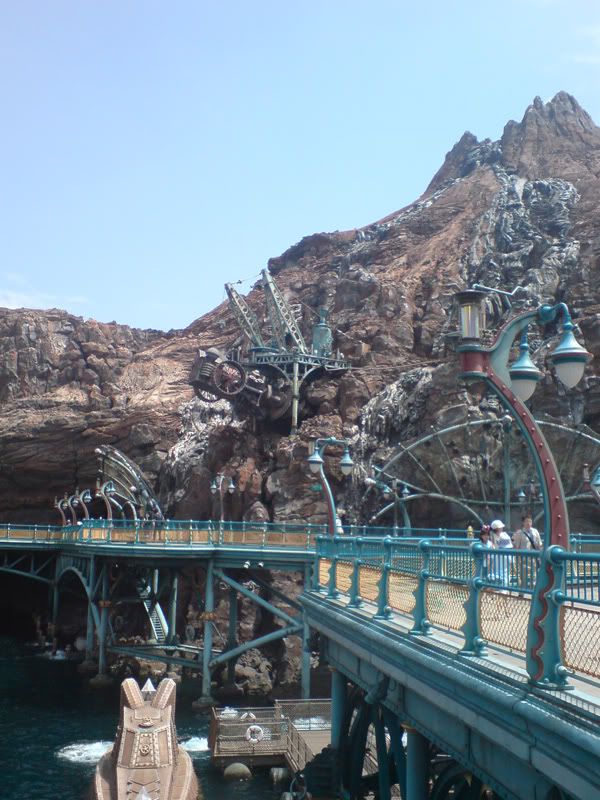 Possibly my favourite setting, The Journey To The centre of the Earth! This ride went up inside the volcano and you come out of the volcano.. from the gate we could see other cars coming out of the volcano and smoke comes from it when the train goes through. It was really fun.
And in the same area, just round the lake, is the spiral-y entrance to 2000Leagues Under The Sea. That was was pretty cool too!
After all that excitement we stopped for Lunch in the Venice area, I had mozzarella and tomato salad, it was sunny, we sat outside.. and I admit I felt a little sad, because it felt like so many family holidays from before at that point. It didn't feel like japan, and I was a bit sad that I wasn't sharing the experience with Bry or the family.
Still, a glass of grape juice, a round of singing disney songs with Dana and we were off to the Alladin zone, via Ariel's mermaid grotto.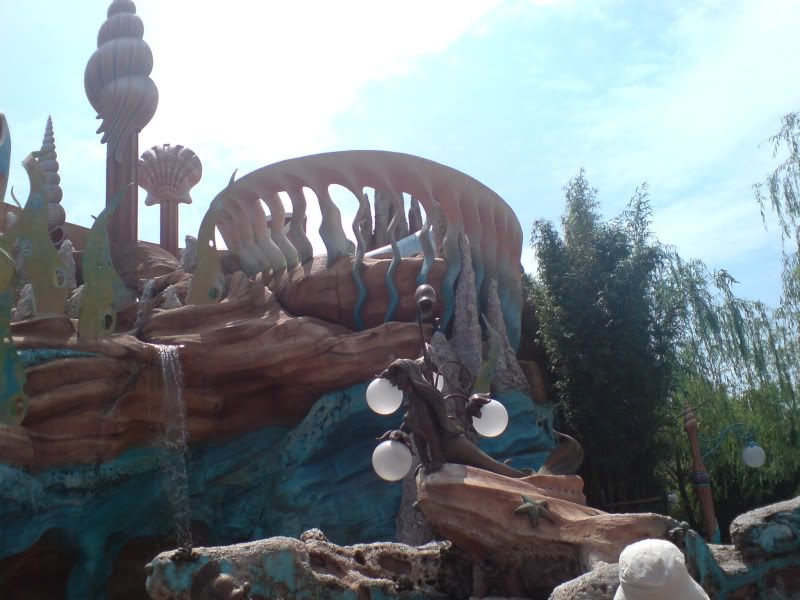 ariel on the rock outside her underwater-theme castle.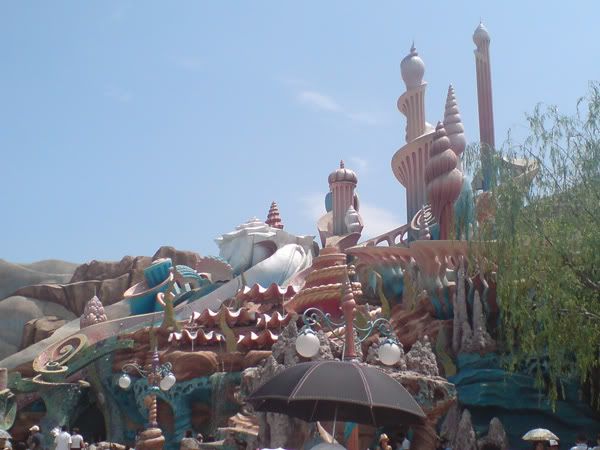 This is a close second on my favourite settings, it was really pretty. Inside was cool too! Even though it was the zone for younger kids, it was all that wavy colourfull style. but it was too dark to get a good photo of :(
This one s the best I got..
We went to the shop in this area to find souvenirs for the people we needed to get souvenirs for, and made Jar try on various amusing hats.
And the Alladin zone was right round the corner from here. I love that about disneyland, you don't have to go far to be in an area with a completely different vibe. You'd think they'd all mash together into one big Disney-themed place, but they don't. every area feel like a different place.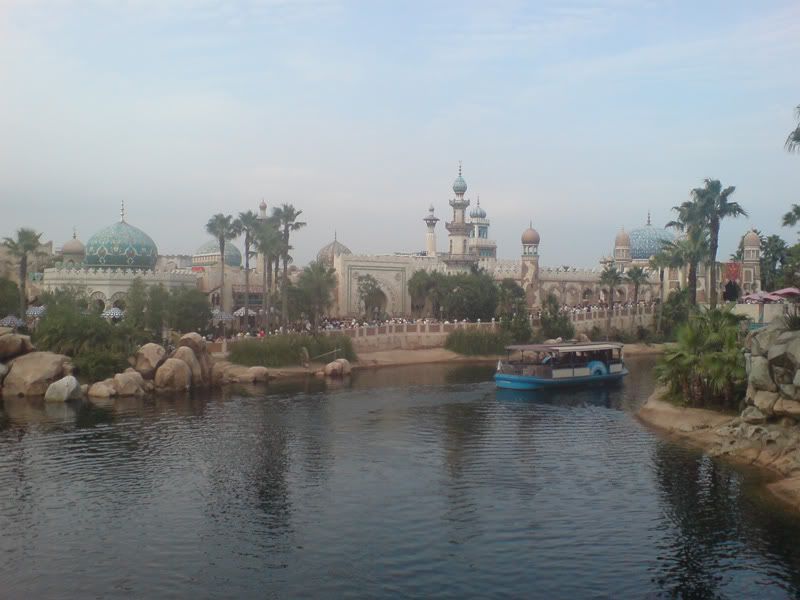 Alladin and Sinbad shared this themed area which is cool. We even got to meet alladin and Jasmine :p there was much excitement from our group because they weren't japanese, looked appropriately arabian and were infact speaking english! And jasmine was so beautiful, I always feel gross by comparison to the disney princessess!
More souvenir shopping, and we also got our photo taken sitting on a prop-camel! I don't have this photo yet.. it'll be on the cameras of the others.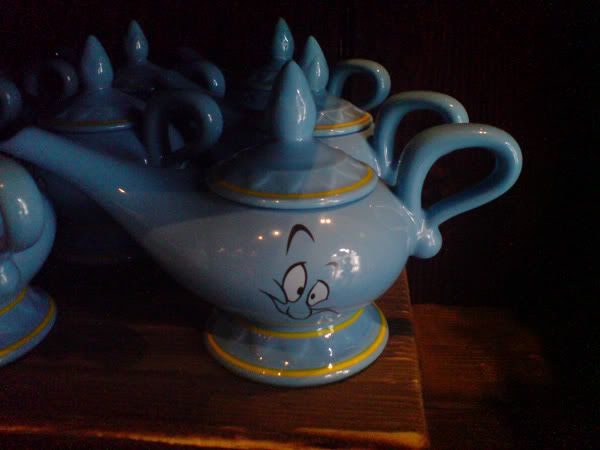 If I could have guaranteed it's safety, I would have bought one of these! GENIE TEA. (sounds like G'n'T.. get it?)
So we'd wandered all the areas of Disney Sea, and it was time to put our Fast passes to use! So we wandered back to the jungle area with Indiana Jones and raging spitits and took on those two! The Indiana jones ride was my favourite, it was really good! And the good company mad eit all the more hillarious.
Raging Spirits was good, but by and large it was very tame for a rollercoaster. But there was some interesting effects when the train goes past fire,so you feel really hot for a second. Then through a cloud of Cold Mist so you get cold! then the loop, which was actually weirdly small. Still good fun, thought I'm glad we had the fast-pass because I wouldn't have waited in the regular line for it.
It was starting to get gloomy, so we wandered back to the New York area for final gift-buying and to find a place to sit for the show on the lake. we found a good spot then broke off to get food, or souveniers or drinks and such. I got a hotdog for dinner, and a teddy-purse as a souvenir for myself. You see, all day Lauren and I had been wondering where these bears had been coming from that everyone was carrying. They were lovely, and a mystery! But Dan knew where they were and pointed us to the shop in the New York section to see them. The mystery was solved. I bought the teddy-purse because it's cute, because it's functional and because it's the perfect souvenir for such a good day and proves that we solved a mystery we'd been thinking about all day!
The show on the lake was amazing. there were coloured water jets, fireworks and light beams in the sky. There was this huge angel-shaped fountain of water, and fireworks and actuall fire came from the volcano.
The a huge mechanical phoenix/dragon with lights for eyes and fire fir feathers ROSE OUT OF THE LAKE.
and sang with the angel-fountain thing and it was all very impressive.
And murder for my feeble little camera... but I did my best;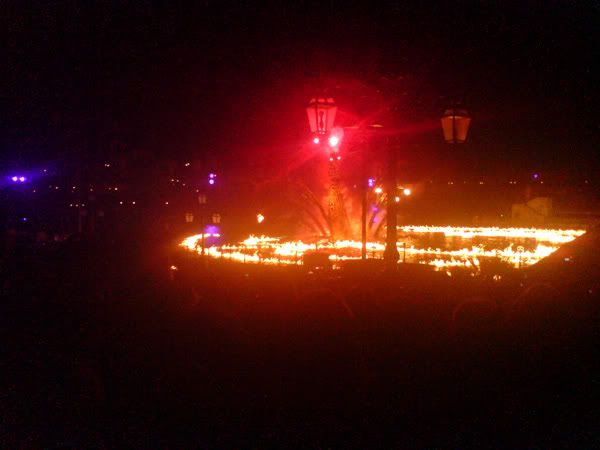 There he is... and the fire, again, on the surface of the lake. I kept thinking about how that big dragon must have been under the lake all day.. we would never have known. oh the secrets of Disney :p! haha.
After that spectacle we went to do some last-minute rides. namely, indiana jones again, and the tower of terror again! The tower was really something at night, when the windows open up to show you the whole park before you drop, it was really amazing lit up in the dark.
but now, It was after 10pm.. and we had to get our butts back to tokyo centre to find our hostels and sleep.
The globe, lit up in the dark.
I love disney sea, I know I'll go back.. and I can't wait!!