yesterday afternoon was the long-awaited annual English-Club party hosted by the fabulous Fumiko! This party was to involve a BBQ, American drinks, and english word games forboth the kids and adults. Ebun, Hayato and I were in charge of games.
The party started at 2, and we were to turn up around 10 to start preperations. I thought this was a bit silly at first, but it turned out to be a good call, we had a lot to do! Luckily we'd prepared the games already, last thursday night. I was in charge of Balloons for the morning, and decorated the garden with them. (Only a few didn't survive, but I did hang them up next to a thorn bush.. oops).
We had an early lunch of deliiicious curry and rice, and watermelon for afters, then we were to start preparing the food for the BBQ. There was a LOT of food. I mean, a binbag full of aubergenes, a binbag full of peppers, a box of leeks, a box of scallops and squid (yeah). And so forth. My job was washing vegetables for Hiroko and Motoko to chop, haha, I took some photos to demonstrate how mnay there were;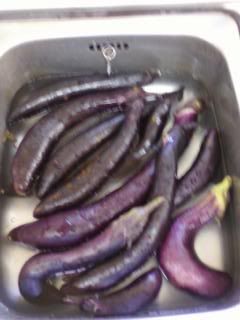 Weird long thin eggplants called "Nasu"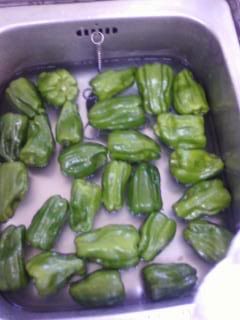 "Piman"
yum yum. Vegetabubbles.
OH, and the customary Drinks Photo;
That is an ice-water bucket full of cans of root beer and cherry cola. CHERRY COLA.
Grahame and I took a few moments to lament the lack of Irn Bru.
Now, I had heard legend and song about Fumiko's amazing house. And I can tell you, it's all true, the house is gorgeous! Even though this was an English Club party, there was to be Tea Ceremony, and a Koto demonstration in the tatami room at the back of the house (near the garden, a very nice set up :))
You know your house is impressive when there's seperate mens and woments toilets...
Also, Julia had her own house in a seperate section of the garden. Whats the big deal right? Most dogs have a dog-house in the garden right?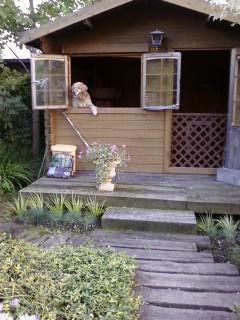 That's Julia in her house. She's so cute and so soft. I love Julia :p
I learned that Motoko is a licenced Master of tea Ceremony (or something to that effect). Isn't that awesome?!
here are some photos of the tatami room of Fumiko's house;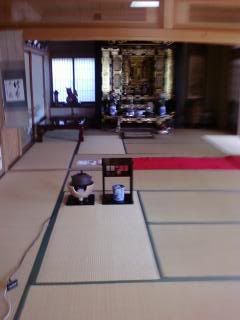 You can see the set up for the tea ceremony there :) and in the back is the household shrine for departed family members, there were photos of Fumiko's grandparents and older brother at the shrine, and incense.
Most family shrines are much smaller than this.
In this room we helped set up the koto for the demonstration;
They're very large, but surprisingly light.
Blurry, sorry, but here are two women playing the Koto.
And afterwards, we were alowed to try playing them ourselves!
The english word games we'd prepared went down well,
Kids game!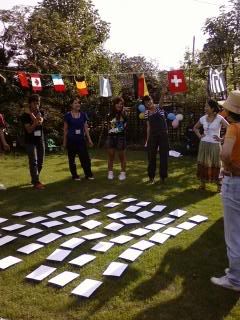 Adults game! (from left to right, Hayato, Kunohe's official Photographer, Tomoka, Anna, Fumiko and Hiroko)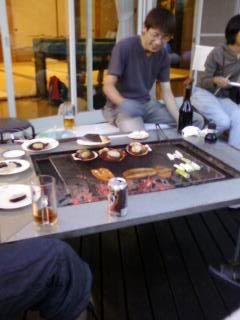 After all that, it was BBQ time. Squid, scallops and vegetables on the grill!
So delicious.
It was a long and exausting day, and so much fun.
There was one incident in which a lady fell on the stone steps and had to go get stiches in her knee, but we were assured later that she will be okay. Apart from that everything went smoothly.
I hope whoever is here for the party next year has as much fun as we did this year :)